OLUSOLA BALOGUN writes on what Governor Ibikunle Amosun will remembered for when he leaves office on May 29, 2019.

"To every thing there is a season, and a time to every purpose under the heaven. A time to be born, and a time to die; a time to plant…, " (Eccles  3:1&2)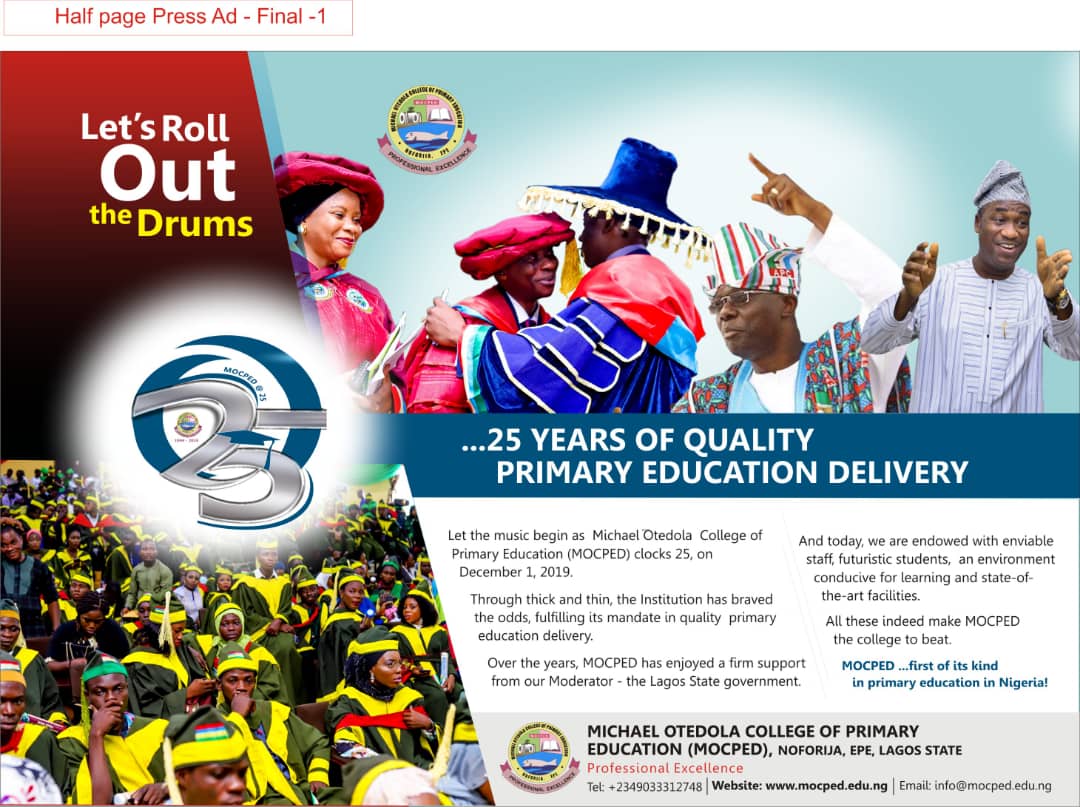 For Governor Ibikunle Ikheel Amosun, the self-imposed objective to reposition and rebuild Ogun State and plant it among 21st century entities which started on 29th May 2011 is about rounding off after ninety-six months .
Even the most acidic of his critics acknowledge that he is about to leave a massive foot prints in the sand of time. Indeed, the Amosun administration has scored several 'firsts' and organized several trailblazing events that it is being secretly feared that his successor might have a herculean task matching up to his landmark attainments.
According to Tajudeen Ilugun, a public affairs commentator  "Irrespective of political leaning, all honest citizens and visitors to Ogun State agree that the outgoing governor and his team,  have in the last eight years, delivered an expansive transformation agenda that has seen the state capital and several other cities and major towns in the three senatorial zones greatly remodeled."
Indeed, Ogun State has witnessed a remarkable re-engineering in her economic, infrastructure and industrial sectors such that today, Ogun State is the fastest growing industrial hub in the South West and the state with the fastest growing Internally Generated Revenue in Nigeria. Senator Amosun moved the IGR of the state from a paltry N750m in 2011 to presently over N6bn monthly.
Ogun, going by the recent crime statistics from the Nigeria Police,  is also  the safest state in Nigeria! That surely is no mean feat! From being one of the states known for its notoriety in armed robbery, kidnapping, ritual killings and  cult-related killings, Ogun has been largely transformed into a peaceful state where citizens' safety and protection of business facilities are great priorities of government.
Gone are the days when banks are forced to close shops due to the invasion by armed robbers. Gone also was the gory pictures of ritual killings and bloody clashes by rival motor union gangs.
Suddenly, Ogun State, which in the recent past nearly fell into the status of a pariah state, has assumed the status of host-state where every national association and union of note want to visit for their Annual General Meetings and Conferences.
Ogun also hosted several top drawer world leaders who would have avoided the state for its previous security and safety records.
It is to the credit of the Ibikunle Amosun government that Abeokuta, the state capital,  is not only one of the neatest state capitals in the  country, but also has the best network of roads in the country.
Senator Amosun,  it was, who uplifted the status of Abeokuta from its hitherto glorified village into a modern town adorned with world-standard  roads and  flyovers
The governor, during his  tenure,  rehabilitated, and upgraded over 100 roads totaling over 600km and construction of over 20 flyover  bridges across the three senatorial districts.
Some of the completed roads and bridges are: Ibara- Totoro Road, Ibara Fly-over Bridge, Itoku Bridge, Moshood Abiola Way,  NNPC Flyover, Kuto Flyover, Yakoyo Bridge, Ilisan-Ago Iwoye Road, Mobalufon-Oluwalogbon Road in Ijebu-Ode, Ilo-Awela Road in Ota, Ota Township Roads, Owowo-Olowopapa Road, Ayetoro-Idagba Road in Ayetoro, among many others.
The Panseke walk-bridge,  which Google acknowledged  as the longest in Sub-Saharan Africa, was equally constructed by the SIA government. Similar walk-bridges were equally erected at Mowe and Ibafo
Governor Ibikunle Amosun would also be remembered as the Governor whose administration ended the  weekly carnage at Mobalufon Junction in Ijebu Ode. His government's construction of the six-lane Mobalufon Bridge over the busy Benin-Sagamu Expressway. Before the advent of the bridge, hundreds of  Ijebu citizens trying to cross the busy Expressway have  been crushed by speedy luxurious buses. The bridge ended that carnage!
The administration also has several landscape defining projects nearing completion. They include:  Ojere-Adatan road, OGTV-Brewery Road, the 48klm  10-lane Sagamu-Abeokuta  Boulevard, Kuto Junction Flyover, Mokola Flyover, Enugada-Adatan Road, Itoku-Ajitadidun-Iberekodo Road, Ake-Itoko-Mokola Road,  Ofada-Mowe-Ibafo Road, Sango-Ojodu Road, Flyover at Ijoko rail Junction, Flyover at Agbado Junction, Flyover at Akute Junction and a  flyover  over river Ekun  in Alagbole-Akute axis. Paucity of funds and the need to prioritize projects accounts for why these projects still linger.
Senator Ibikunle Amosun would also be remembered for bequeathing Ogun with an ulta-modern judiciary complex which effectively  replaced the derelict headquarters of that key government arm at Isabo-Abeokuta. He will also be remembered for constructing the Abeokuta city center which hosts a 5000-seater amphitheater, banks and a branch of the popular South African retail outlet.
The administration also constructed a 300-bed ultra modern hospital fitted with state of the art tools.
Senator Amosun,  in an attempt to ensure equitable development and even spread of state-owned tertiary institutions, also moved Ogun State Polytechnic from Abeokuta to Ipokia in Ogun West senatorial district.
Apparently elated with the performance of the outgoing administration, Ilugun said, "History will definitely record that in Ibikunle Amosun, Ogun State  had a leader who displayed courage, tenacity and fidelity to the cause of re-modeling and repositioning the state along the paths of progress, peace and well-being of majority of the citizens when God gave him opportunity to lead."
These epochal attainments is,  perhaps the unspoken reason why Amosun's traducers were hell-bent on tainting his sterling legacies and records on the murky turf of politics.
Nevertheless, Senator Amosun  has played his part in the development of Ogun and is set to take his well-deserved  exit.  His attainments while on the stage surely would undoubtedly be cast in gold and his name written among the greats.
*Balogun is a Media Aide to Governor Ibikunle Amosun.