Professor Lai Oso is one of Nigeria's most widely published communication researchers.  A former Dean, School of Communication, Lagos State University, LASU, he is the national president of the Association of Communication Scholars and Professionals of Nigeria, ACSPN.
In this interview with SAKIBU OLOKOJOBI, Oso speaks on some key issues on the development of journalism in Nigeria, particularly the effects of the New Media.  He expresses his opinion on the raging fire of controversy over hate speech and the attempt by the government to regulate the social media, among other things.  Excerpts:  
Based on your position about the kind of relationship that should exist between a journalist and those in government, to what extent should a journalist be close to those in government. 
It is a very dangerous thing.  It is a very slippery ground.  Once you get too close, you get compromised; you become embedded and you begin to see things from the perspectives of those you are reporting.  Then you lose your autonomy, you lose your integrity, and the freedom of the press becomes a casualty.  So, journalists must be careful in their relationship with those in power.
But it is obvious that some journalists get close to those in government because their employers don't do what they should in terms of remuneration and general welfare.
You are right.  It is a very complex issue.  Once you employ people and you outsource the welfare of your reporters to sources, you have lost your autonomy.  I think that is not the traditional liberal perspective of journalism.  So, we need to do something in that area.  If you want a free press, there must be a way of insulating journalists from the powers that be.
What tips would you, as a teacher, give to strengthen journalism practice in the country?
We should strengthen the issue of ethics.
How should we do that?
I think the professional bodies should look at a way that if a journalist offends, he should be made to pay for it.   In the present situation, except the National Broadcasting Commission which is saying that if you don't do your work the way it should be done, you shall be sanctioned according to the law…  And that only happens during election period. They sanction the organisations.  What of individual journalists?  You get something published which you know is false, or you are caught taking bribe and the the organisation closes its eyes as if nothing happens.  The Nigerian Press Council cannot do anything. I think we need to strengthen that area.  We need to increase the level of adherence to ethical standards.
Then of course, training.  You find out that some media organisations have not trained their reporters in the last ten years.  These are people that are doing the work for you.  You cannot even organise in-house training for one day to improve their capacity.  We need to do a lot in the area of capacity building in journalism.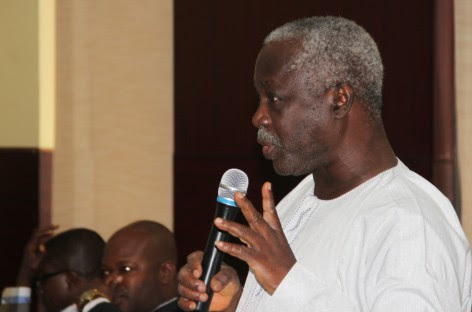 We have some organisations that have been helping out in that area, but some of them are dismissed as feasting on the money they collect from donor agencies. 
Why would anyone complain?  As far as the money they get is being spent well, people are benefitting, I'm all for it.  Somebody must pay for the work they do.  If Nigerians are not ready to pay, somebody must pay.  There is something we call the third sector.  That is where you have the philanthropists or foundations that are ready to put in money.  You don't have many in Nigeria, and the ones that are here want to put money where they will get publicity and all that.  We have the IPC (International Press Centre) by Lanre Arogundade, Wole Soyinka Centre, Lanre Idowu and others.  If they get money and spend it well in improving journalism, I don't have any problem with that.  Somebody must pay for it if Nigerians are not ready to do that.
Look at the immunisation being carried out all over the place.  Who is paying? They are international organisations.  The Nigerian government is not doing much.  We get much of the HIV drugs from outside.  Bill Gates and the rest of them pay the bills.  So, why would anyone complain?
Sir, you started as a reporter in a radio station, then News Agency of Nigeria.  What informed your crossing from the newsroom to the classroom?
The person that has influenced me most in my career has been the late Professor Femi Sonaike.  He was a reporter before he went into academic.  I think that influenced me.
How did you meet him?
He was my lecturer at the University of Lagos; he supervised my BSc project and he was monitoring me after graduation.  So, when I was doing Masters, it was that time they started Moshood Abiola Polytechnic's Mass Communication programme.  He crossed from UNILAG to start the programme.  So, he more or less brought me into academic, and I've since been there.  And I met some people in academic who had been professionals, like Professor Idowu Sobowale who had had a lot of influence on me; and Professor Olatunji Dare.  These are people who are professionals, who are also in academic.
Having been part of the two worlds, is there a relationship between the newsroom and the classroom in journalism?
Yes.  Well, your experience in the newsroom tends to, in a way, influence your academic work in terms of research.  You already have some professional practical experience.  By the time you put that into the theory, you see where there are some differences, where there are some similarities and that could influence the way you do things.
Would you say the schools have been able to bridge the gap between the theories taught in the classroom and the practical aspects experienced on the field in journalism?
The schools of journalism have not been able to do that.  The department of Mass Communication still needs to do a lot in coming to terms with the development we have seen in the communication arena in terms of technology in particular.  How do we get our students to get a good handling of these technologies? We have a good number of students who are now into digital photography, who are now into multi-media.  We can still do more if we have access to fund.  We would like to bridge the gap between town and gown.  I would like to see a situation where some of our colleagues who are in the industry, who are professionals, can be allowed to come as lecturers to teach.  It should be a structured process and not just bringing them in to give lecture or talks.  It should be a structured process so that we can benefit from what they are doing.
What's your philosophy of life?
Simplicity.  I take things easy and stay humble?
How has the philosophy helped you?
It has helped me a lot.  I feel relaxed in any group – with my students and with people generally. I can relate with them well and they can relate with me.  There is no social barrier.  I don't encourage social barrier. I relate with any human being as one created by God with some unique perspectives, unique attributes. I tend to relate with those unique attributes of the individuals.  People have their strength, so I try to relate myself to the strength of the people I interact with.  I don't really look at your weaknesses.  We all have our weaknesses and strength.  If you relate to people's strength, and you help them to develop those strength, people will benefit.
How best can the university system be improved?
We have a lot of areas and one of them is funding.  Another is improving our students.  You have a good number of our students and it is like they are being forced to be there.  Even when they get the admission, their heart and soul are not in the system.  We have many of them.  That discourages you as a lecturer.  That was not the same thing that happened in the past.  The kind of books we read as 100 level students they can't read them now. They don't have the kind of exposure we had.  400 level students are afraid to read some of the books and the articles you like them to read.  They don't bother.  Some of them are in schools because of funding.  The universities want them because they pay school fees.  You find them in all higher institutions.  Students population has grown so high that you can't even cope.  In a journalism class where you have about 300 students, how do you give them reporting assignments?  In our days at the University of Lagos, each of us would write at least two stories in a week and it would be graded.  You can't do that now.  So, it is affecting the system.  You find those that are very good, but it is like you put rotten apples with good apples, the rotten ones will affect the good ones.  And where the rotten ones are so many, it is a problem.
What advice would you like to give to those who would like to practise journalism and those who would want to teach? 
There is one statement which we were taught as undergraduates:  Journalism involves knowing something about everything and everything about something.  Yes, you are a lecturer, you teach journalism, you teach broadcasting, you teach film; you are an expert in the field, but you must know something about other areas.  Communication is everything about us.  It is all over us.  So, you must have a very good grip of the totality of communication.
What advice would you also like to give in general?
Government and civil society groups have to do something about public knowledge and public understanding of issues.  We are not doing that.  For instance, people don't know enough about Nigeria.  It is a pity.  You find young people born in Ojo local government area of Lagos State, where we have Lagos State University; they had primary school in Ojo local government; secondary school in Ojo local government, LASU or at best they go to UNILAG for their university education; all still in Lagos.  When it comes to the issue of NYSC, their parents are working to ensure that if at all they are going to go out, it is not beyond Oyo State.  And these are people who will become Editors, who will write about Nigeria.  Many of our young people don't know this country.  That is why it is easy for politicians to play on the ethnic and religious fears. "Oh, the Yoruba are like this," and because you never interacted with them you accept.  "The Ibo are like this."  Except you are born in some parts of Lagos where you have seen some Ibo, you would not know what they are.  And, if you go to the East, you will realise that the Ibo of Lagos are not the Ibo of the East.  "The Hausa are like this," "the Fulani are like this."  We don't know ourselves.  We need to find out how to deepen the inter-ethnic virtue and knowledge.  How do we know about the complexities of Nigeria that we can have a good understanding and appreciate what Nigeria is? I think that is very important.  The government owes that responsibility. We need to go back to the teaching of Civic, History from primary school to secondary school and up to the university.  That means that the government must be ready to teach us with the publication of books that will reflect the diversity and the complexity of Nigeria. How do we use television? How do we use the Nollywood to preach national unity from a very comprehensive perspective, showing the diversity of this country that we can appreciate?  We have the instrument – what people call soft power.  We have the television, Nollywood, our books, plays, novels.  How can we use them?  It is a duty that the government owes us.