Nigeria, the most populous country in Africa, according to the United Nations data, with a population of over 206 million people and still expected to skyrocket by 2050 is ranked the poverty capital of the world. It has about 100 million of its population living below the poverty line due to lack of access to basic amenities like water, healthcare, education and electricity and the upsurge of insurgency in some part of the country.
The federal government under the Muhammadu Buhari administration recognising these challenges as a hindrance to meeting the sustainable development goal by 2030 has been coming up with different initiatives to lift people out of poverty. In 2016, as part of the administration's campaign promise they came up with a National Social Investment Program NSIP. The social investment programme which is about investing in people through policies designed to strengthen people's skills and capacities by supporting them to participate fully in employment and social life was designed and targeted at equitable distribution of resources to vulnerable populations including children, women and youths. This NSIP programme consists of the N-power programme for graduates to acquire and develop lifelong skills, the Conditional Cash Transfer, CCT, for the support of those within the lowest poverty brackets, the Government Enterprise and Empowerment Programme, GEEP, which is a micro lending intervention for traders, farmers, women etc and the National Home Grown School feeding Programme, NHGSF, to deliver school meals to young children.
Shell, a multinational petroleum oil and gas company for decades through its companies in Nigeria, has been working in partnership with the federal government to support people, communities and businesses through a range of investments. The company explained in the Nigeria Briefing Notes 2020 released recently that, Nigeria is a thriving and vibrant country offering opportunities for people to improve their livelihoods but the scale of the opportunity is mirrored by the scale of the challenges to provide affordable energy, education, healthcare and conditions for local businesses to grow.
In the area of enterprise support Shell works to improve the chances for Nigerians to achieve their ambitions.
It further explained that they had been carrying out social investments through the Shell companies in Nigeria, SCiN, which includes Shell Petroleum Development Company of Nigeria Limited, SPDC, a wholly-owned Shell subsidiary, which operates an unincorporated joint venture, SPDC JV; Shell Nigeria Exploration and Production Company Limited, SNEPCo; Shell Nigeria Gas Limited (SNG) and Nigeria Liquefied Natural Gas (NLNG) Limited to develop people, communities and businesses.
According to Shell, in 2019 their Nigerian businesses SPDC, SNEPCo and SNG made direct social investments of $40 million in Nigeria, making the country the largest concentration of social investment spending in the Shell Group. The company noted that it undertook two types of social investment activities: Direct social investment across Nigeria, which focuses on community and enterprise development, education, community health, access-to-energy, road safety and since 2018, biodiversity. Also, it does community-driven development programmes and initiatives in the Niger Delta, which focus on various themes as determined by benefitting communities and delivered through a Global Memorandum of Understanding (GMoU). There are 39 active GMoUs in Abia, Bayelsa, Delta, Imo and Rivers States.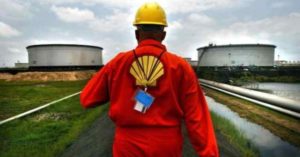 The multinational company noted that since 2006 it had invested a total of $252 million on community driven programmes through these GMoUs with 667,000 beneficiaries in the mobile health outreach since inception. In 2019, three new GMoUs were deployed and 10 GMOUs renewed. The GMoUs provide a secure five-year funding for communities to implement development projects of their choice. GMoU projects cover community health, education, enterprise development and social infrastructure, such as improved water and power supply, and sanitation. Since 2010, more than 27,000 babies have been delivered safely at Obio Cottage Hospital in Port Harcourt. The Community Health Insurance Scheme was launched in 2010 at the Obio Cottage Hospital, a secondary health care centre in Port Harcourt.
In 2018, CEO of De-Rabacon Plastics, Yolo Bakumor Smith who is a Nigerian won the first-ever ShellLiveWIRE Top Ten Innovators Awards organised by shell group for his business. De-Rabacon is a Nigeria-based plastic recycling and waste management solution company that recycles end-consumer plastics to viable commercial products such as pavement blocks, buckets, cans, and carpets.
Smith stated that, "There is often a paper-thin line between success and failure in business, especially for a start-up. The training, support systems and valuable networks I have gained over the last five years courtesy of Shell LiveWIRE, have gone a long way to ensure that my business start-up, De-Rabacon Plastics is thriving."
"Shell's approach to supporting local enterprises to grow and excel is enabling us to scale up our business and focus on designing eco-friendly, energy-efficient and affordable products. Today, my organisation employs 16 people and has recycled over 800,000 tonnes of plastic waste. We plan to achieve two million tonnes by the end of 2020," he said.
In the area of providing affordable healthcare Shell believes affordable quality healthcare is a critical enabler to any community. It improves health indicators and outcomes and strengthens families, educational attainment and business opportunities.
In the area of providing affordable healthcare Shell believes affordable quality healthcare is a critical enabler to any community. It improves health indicators and outcomes and strengthens families, educational attainment and business opportunities. Due to this it seeks to increase access to health services, introduce health insurance schemes and strengthen health systems. It has continued to work with key stakeholders to achieve universal health coverage by increasing access to health and the uptake of services in the communities. The SPDC JV and SNEPCo support 20 health care centres and signature intervention projects throughout the country. They include Health-In-Motion community care programme Health-in-Motion (HIM) which reaches an average of 50 communities annually.
The Community Health Insurance Scheme, CHIS, launched in 2010 at Obio Cottage Hospital which costs individuals $30 per year and covers about 95 per cent of people's health care needs. Since 2010, more than 67,000 people have been enrolled. In 2019, nearly 8,500 new clients registered. The Oloibiri Health Programme is a Shell-sponsored local government initiative in the Ogbia area of Bayelsa State which has seen a five-fold increase in service utilisation to 4,210 patients in 2019 from an average 833 patients in 2017. It has also provided training for over 130 health workers at community, local and state government levels. It has trained 117 volunteers as facility-based extension workers in house-to-house healthcare. To anchor the sustainability of the OHP, the initiative aims to establish the Oloibiri Health Foundation that will institute the Ogbia Health Insurance Scheme akin to the scheme in place at the Obio Cottage Hospital.
On the part of education, Shell has a long history of supporting education through scholarships and other initiatives. It stated in the report that educating Nigeria's young population is critical to the success of the country. Since the 1950s, the Shell scholarship schemes have supported several thousands of students many of whom are among Nigeria's business, political and social leaders. Through the SPDC JV and SNEPCo $7.8 million was invested in scholarships in Nigeria. The Cradle-to-Career Scholarships programme in the Niger Delta is with more than 1,000 beneficiaries since 2010. More than 6,000 university scholarships have been granted since 2011. Students Industrial Work Experience, SIWE, programme was granted to highest achieving students. The SPDC JV also established the Shell Niger Delta Post Graduate scholarship programme which has benefitted 92 students from the region over the last decade. The programme offers one-year scholarships to three UK universities for studies related to the oil and gas industry. To promote the emergence of industry-ready graduates at university level, Shell also invests in specific initiatives at Nigerian universities. It funded a Centre of Excellence, CoE, in Geosciences and Petroleum Engineering in 2017 which specialises in Marine and Offshore Engineering. By the end of 2019, over 75 students had graduated from the programmes and over 81 per cent of these graduates are currently employed.
In the area of enterprise support Shell works to improve the chances for Nigerians to achieve their ambitions. In addition to providing access to loans to small and medium businesses which could become Shell suppliers and contractors, there is also the LiveWIRE youth enterprise development programme for young people between the ages of 18 and 35 to start or expand their own businesses. In 2019, 140 people benefitted from the LiveWIRE programme, receiving training in enterprise development and management, as well as business start-up grants. More than 7,000 Nigerian youths have so far been trained under the programme and almost 4,000 young entrepreneurs were provided with business grants.
To promote the emergence of industry-ready graduates at university level, Shell also invests in specific initiatives at Nigerian universities.
Shell also reached out to the Internally Displaced Persons (IDP) in Yobe and Borno States and as committed $6 million to government-driven strategic intervention projects focused on immediate relief and critical support development related to health, water and sanitation, education and shelter. By the end of 2019, the SPDC JV and SNEPCo completed the distribution of food, essential hygiene kits and other relief items to over 5,500 vulnerable households in IDP camps and impacted communities.
Also because being able to have a reliable and cost effective energy will provide enterprise development, opportunities for education and access to affordable healthcare therefore Shell aims to provide reliable electricity supply to 100 million people, primarily in Africa and Asia by 2030. Nigeria features in that vision.
Despite its oil and gas resources, Nigeria has one of the highest levels of energy poverty in the world. In addition to investing in Nigeria's gas development and distribution network, Shell has established All On to boost off-grid supply to homes and small businesses in the Niger Delta.