100 songs composed and performed by the multi-talented and multi-skilled artiste, Benson Omowafola Tomoloju, will be launched today.
The announcement was made by Concrete Communications Studios in a statement.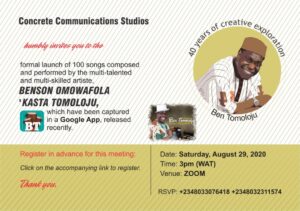 The songs, the outfit said, had been captured in an Application (App) which was released a few days ago on Google App.
The official launching holds at 3.00 p.m. and will be via Zoom.
Register in advance for this meeting: https://us02web.zoom.us/meeting/register/tZAkf–oqjsuGdbvgnjuTzbq6XUmdNrwLZm9
Ben Tomoloju speaks on the songs: "It is quite significant and exciting that Concrete Communications and her partners have deemed it necessary to compile these songs. They are a hundred in number. But the hundred are just a fraction — between a quarter and a third — of my entire repertoire of original compositions. I'm not sure we can recover all. But we'll try. So far, in quality and magnitude, and also for its combination of the philosophical and the popular, I think we have here a bumper harvest of music with a cross-over appeal."